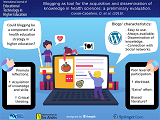 This paper describes our experiences with a public WordPress-based blog was developed for the Nutrition and Dietetics module of the undergraduate course in Nursing at the University of Castilla-La Mancha (Spain). This was primarily intended as way to use ICT to increase the level of student engagement and interest in learning the subject, but also as a way to introduce future health professionals to the world of blogging. By analysing the outcomes of this preliminary evaluation of a pedagogy, it is concluded that blogs are a very useful tool, although it is suggested that the literature shows a certain bias toward the publication of successful trials.
Read the full article here.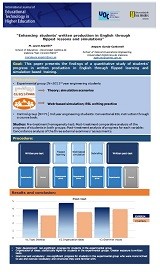 The goal of this study was to show that simulation-based instruction contributes significantly to students' progress in written production in English. The results showed that students who received simulation-based instruction (experimental group) significantly improved their English writing skills, primarily in terms of organisation and linking of ideas more than students who attended a regular English course (control group).
Read the full article here.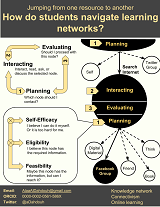 A considerable amount of literature has recently appeared around the theme of learning networks and Connectivism. However, our understanding of how and why students navigate learning networks in the way they do is limited and the field lacks empirical studies investigating how students form connections. This paper presents a model showing how students form connections to different kinds of resources, along with the criteria they use to decide on which resource to choose. The findings were derived by conducting retrospective think-aloud sessions with nine participants after solving 10 tasks each. Mixed-methods approach was used in the data analysis. A goal of this research is to contribute to a deeper understanding of the navigation processes in learning networks and to provide guidance for online learning practitioners who seek to improve their practices.
Read the full article here.