Review article

Open Access
The effect of games and simulations on higher education: a systematic literature review
International Journal of Educational Technology in Higher Education
2017
14:22
Received: 28 November 2016
Accepted: 30 May 2017
Published: 10 July 2017
Abstract
The focus of higher education institutions is the preparation of future professionals. To achieve this aim, innovative teaching methods are often deployed, including games and simulations, which form the subject of this paper. As the field of digital games and simulations is ever maturing, this paper attempts to systematically review the literature relevant to games and simulation pedagogy in higher education. Two researchers collaborate to apply a qualitative method, coding and synthesizing the results using multiple criteria. The main objective is to study the impact of games and simulations with regard to achieving specific learning objectives. On balance, results indicate that games and/or simulations have a positive impact on learning goals. The researchers identify three learning outcomes when integrating games into the learning process: cognitive, behavioural, and affective. As a final step, the authors consolidate evidence for the benefit of academics and practitioners in higher education interested in the efficient use of games and simulations for pedagogical purposes. Such evidence also provides potential options and pathways for future research.
Keywords
Game-based learningDigital gamesSimulationsPedagogical useHigher educationLearning outcomesCognitive goalsBehavioural goalsAffective goals
Introduction
As rapidly evolving technological applications, games and simulations are already widely integrated in the traditional educational process. They are deployed extensively in the field of education, with an existing body of work examining the relation between games and education (Yang, Chen, & Jeng, 2010; Chiang, Lin, Cheng, & Liu, 2011). In recent years, digital or web-based games have increasingly supported learning. In the context of online education, this research area attracts a significant amount of interest from the scientific and educational community, for example tutors, students and game designers. With the growing expansion of technology, instructors and those who create educational policy are interested in introducing innovative technological tools, such as video games, virtual worlds, and Massive Multi-Player Online Games (MMPOGs) (Buckless, 2014; Gómez, 2014).
Games and simulations show mixed effects across a number of sectors, such as student performance, engagement, and learning motivation. However, as these studies focus only on certain disciplines, there remains a gap in the literature concerning a clear framework of use across academic programmes. As a result, the issue of efficiently integrating games and simulations in the educational process is often up to the instructor's discretion. Accordingly, the aim of this paper is to develop a framework to allow educators across disciplines to better understand the advantages and draw backs of games and simulations specific to their pedagogical goals.
Rationale of the study
The researchers set out to examine the effectiveness of games and simulations in the learning experience, and immediately encounter the first challenge, which relates to a lack of clear empirical evidence on the issue (Farrington, 2011). The scientific field is too extensive and requires further investigation. Furthermore, there is currently no formal policy framework or guidelines recommended by governments or educational institutions on the adoption of games and simulations in education. This is the case for many countries in Europe, the US, and Australia, where it is the responsibility of the instructor or institution to incorporate games into the curriculum.
The main motivation for the current review lies in the fact that games are already, to a certain degree, integrated into educational systems to achieve a variety of learning outcomes (Connolly, 2012), yet a comprehensive policy is still lacking. In this paper, the first step was an attempt to conceptualize the terms "game" and "simulations". Although the two terms are neither wholly synonymous, or completely differentiated, in the main body of this review, the focus will be on lumping them together and perceiving them as points across a multidimensional continuum (Aldrich, 2009; Renken, 2016), since these educational technologies are consolidated under the umbrella of an interactive virtual environment in digital education.
A primary aim is to identify studies concentrating on the use of games and simulations for learning purposes, and to analyse the results by comparing them to prior studies' findings. Two research questions guide the review analysis: a) How can the best practices/methods for designing and incorporating games and simulations in student learning be identified? b) How can games/simulations enhance Higher Education?
The major difference between the current review and the previous reviews in the field is the conceptualization of the terms "games and simulations", which acts as an umbrella for further typologies. In other words, the researchers include more genres of games and simulations in their systematic review, compared to the other literature reviews. In addition, the researchers' intention is to focus on the impacts of games and simulations on learning outcomes. The researchers don't focus only on the cognitive outcomes, which is the most obvious and common topic among other researchers but, simultaneously, they analyze behavioural and affective effects as well. Furthermore, most of the previous reviews focus on the impacts of games and simulations on the learning process of certain subjects (e.g. Science, Business, Nursing, etc.), whereas this study expands research in a wide spectrum of academic disciplines and subjects. Overall, the current study offers a systematic review that opens new areas for further discussion, highlighting that collaborative learning, teamwork and students' engagement also play a significant role for a successful learning process.
Conceptualising games and simulations
Research method
Research selection
The authors developed a pre-defined review protocol to answer the research questions, specifically aimed at minimising researcher bias. The literature review was carried out between July and October 2016 and followed the design stages described below.
The reviewed papers are identified through keywords in referenced electronic databases, such as Google Scholar, Web of Science, ERIC, PsycInfo, PsycArticles Fulltext Search, InterDok, ProQuest, Scopus, BEI, and SearchPlus. The keywords for learning outcomes are a combination of the term games or simulations paired with the term higher education, employing the Boolean operator "AND". Additional keywords for learning outcomes are learning objectives, learning goals, learning objectives and effects. Keywords for platform and delivery methods include computer-based, web-based, digital, virtual, online, and technology. Keywords for games and simulations are educational games, business simulations, role-playing simulations, game-based learning, video games, and serious games. Moreover, the Boolean operator "OR" is employed to combine all these keywords. The study sets the broadest range of keywords, so as not to limit the scope of related articles.
Furthermore, the researchers conducted a comprehensive database search in bibliographic indices for the data selection. The search is related to a variety of scientific fields of study, including Education, Psychology, Information Technology, Management, and other scientific areas (e.g., Engineering, STEM, Health, etc).
Assessment and extraction
The dataset consists of journal articles referring to games, simulations or learning in their title and/or abstract. The researchers piloted and evaluated their selection criteria based on prior studies. The study selection process was conducted in two separate phases: a) the researchers, working independently, initially, and, subsequently, together, screened the titles and abstracts for inclusion criteria, and b) in the event of disagreement or insufficient information, they carried out a thorough consideration of the body of the articles (i.e. methodology and results), again independently, first, and, then, together, resulting in consensus. Then, whether to include the text or not was discussed, based on pre-determined criteria. The inclusion criteria used are as follows:
Only empirical articles across a variety of study designs may be included, so as to achieve rich data.

The participants should be over the age of 18 (e.g., students in higher education, college students, instructors, etc.)

Articles that provide an evaluation of student learning outcomes (via the use of games for pedagogical purposes) may also be included.

The resources should, mainly, consist of journal articles and conference papers, which, due to the peer review process, ensure a high quality of material to examine. Existing meta-analysis and systematic literature reviews should be included as well, in order to cross-validate the review findings.

The articles should be available in either English or French.

The articles should adhere to the objective of the study and the definition of the terms games and simulations as pedagogical applications.

Studies containing samples from higher education institutions should also be included. Conversely, research on the effects of games in primary or secondary education should be discarded.

The review should include games and simulations used in traditional, as well as in online environments.

Only peer-reviewed journal articles published between 2010 and 2016 should be included, as the intention is to include the most current research.

Several exclusion criteria, listed below, were also applied in this study:

Non-empirical studies or studies which solely describe the design of a learning environment.

Participants who are younger than 18 years old.

Non-GBL tools and entertainment games.

Book chapters -not only are books difficult to search for on databases, they are, also, hard to access as full texts. Additionally, books are not always subject to the same peer review process as scientific articles. Dissertations, theses, editorials, book reviews and reports are also excluded for similar reasons.

Articles that cannot be accessed as full texts are excluded.

Articles that do not match the research objectives.

Research focused on types of education other than higher education.

As mentioned above, articles published before 2010.
The following figure illustrates the inclusion and exclusion criteria (Fig.
2
):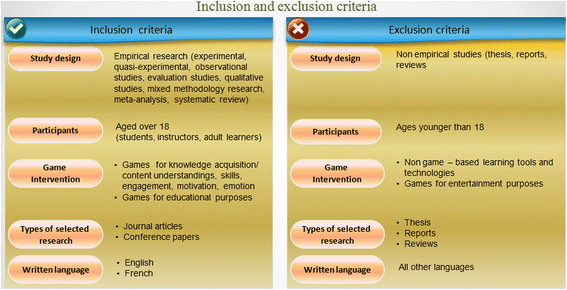 Application of these criteria resulted in an initial dataset, yielding 8859 studies, published between 2010 and 2016. The selected papers are derived from 67 academic journals representing a variety of disciplines. Most papers come from the scientific journal "Computers & Education", while "British Journal of Educational Technology", and "Simulation & Gaming" were the next two journals appearing with the most frequency. In the final stage, several meetings were organized between researchers to discuss the findings, and to decide on presentation.
The results show a steady increase in published papers discussing games from 2012 onwards. After systematically reviewing their abstracts, a final shortlist of 628 potential full text articles emerged. Two hundred and seventeen out of the 628 were excluded, primarily, due to undesirable focus (e.g. theoretical scenarios for using simulations in education). For each of the remaining 411 studies, the researchers identified and recorded some basic themes, for example, types of learning outcomes, effect or impact of game and simulation methods on learning goals, participants and settings, research questions, research methodology and results. Of these, 123 papers, which are found to contribute data, are selected for the review, whereas the remaining 288 articles are excluded, due to the fact that they are written in a language that the researchers do not understand, or because they are focused on a field other than higher education. The majority of these articles are published in scientific journals or conference proceedings, whereas 25 studies are either meta-analyses and/or systematic reviews. An outline of the entire review is depicted in the following figure (Fig.
3
):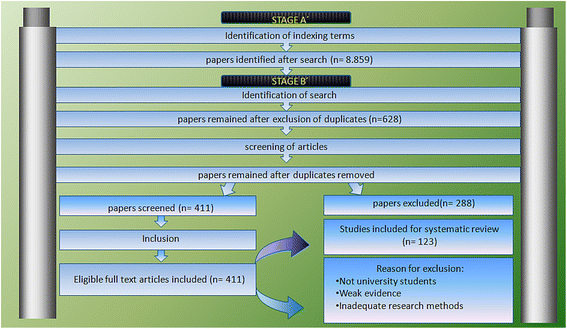 Data analysis and synthesis
The identified articles are analysed using a qualitative content analysis technique, which leads to a coding scheme, including a main category, three sub-categories and several associated topics related to the main categories. The researchers unanimously agree upon the coding that emerged from the analysis of the reviewed papers. To ensure inter-rater reliability (p) with respect to the quality of article coding procedures, a small random sample (n = 20) of the selected articles is coded in duplicate. The calculated reliability exceeds 93%, which is a high quality of agreement across coding categories. Furthermore, a review of mixed-methodology studies provides high-quality evidence, due to a combination of quantitative and qualitative elements in terms of methodological triangulation.
The researchers examined the studies from varying viewpoints. Firstly, they analysed the data set characteristics, such as the continent on which the studies are conducted, the subject discipline, the methodological research design, the types of games and simulations identified, and the time period in which the majority of the studies took place. The emphasis is on the analysis, measures, and design of the quantitative methodology (experimental, quasi-experimental, pre-test, post-test surveys, etc.), as well as the qualitative methods used in the reviewed surveys.
To sum up, the review studies are selected through a systematic process with pre-arranged criteria. There is no intended bias applied to the selected studies, and although the majority of studies come from Europe, this is simply the result of the systematic selection process.
Discussion
Research interest in the incorporation of games and simulations in higher education is constantly developing (Girard et al., 2013). The pedagogical shift, from lecture-centred to student-centred environments and the increasing use of games as innovative learning technologies, calls for a transformation in higher education. In this respect, games and simulations are expected to play a significant role in the learning process. In the present study, the focus is on the positive effects of games and simulations on university students' learning outcomes. The reviewed papers are diverse in terms of research objectives, theoretical background, methodological avenues adopted, game genres, scientific domain or delivery platform, and various perspectives concerning cognitive, behavioural and affective outcomes employed. Many articles (n = 123) are identified, providing either empirical results or offering meta-analytic evidence.
There seems to be a lack of shared definitions or taxonomy necessary for a common classification, which, therefore, results in terminological ambiguity (Klabbers, 2009). The majority of GBL researchers compare the effectiveness of implementing web-based learning games to conventional instructional options (Shin et al., 2015).
Mapping the results, empirical evidence is identified with respect to cognitive learning outcomes including knowledge acquisition, conceptual application, content understanding and action-directed learning. Games and simulations are educational interventions, which create a supportive environment in which students may acquire knowledge across subjects and disciplines. Students have the opportunity to better understand theoretical concepts, provided that games are used as a supplement in traditional lecture-based courses. Additionally, simulations are often perceived as enjoyable learning tools, which require active and collaborative participation and contribute to the improvement of critical thinking and reasoning, higher-order- and metacognitive thinking. Simulations provide students the opportunity to observe the outcomes of their actions, and take responsibility for decision-making via problem-solving competencies, thus leading to a more active, transformative and experiential reception of knowledge.
Another important finding is that simulations have positive effects on both students and instructors. Positive outcomes exist when instructors set achievable learning goals, interact with students promoting knowledge, support, facilitate, and motivate them to construct new game-based knowledge (Kovalik & Kuo, 2012; Lameras et al., 2016). Instructors are encouraged to design games and simulations in order to make students fully aware of game activities, providing all the while continuous instructional guidance. These results generally confirm the findings from prior systematic reviews and meta-analyses. However, findings diverge slightly in Young et al.'s survey (2012), who claim that there is limited or no evidence about the effective implementation of games in the lecture-based curriculum.
This review also covers behavioural outcomes, mainly the development of social, emotional, and collaborative skills, helping students to foster strong relationships with peers, empowering them to collaborate and work in groups more efficiently, become organised, adapt to new tasks, and resolve emerging conflicts. Furthermore, reality-based scenarios and action-oriented game activities promote fruitful interactions and meaningful feedback, which leads to collaborative construction of knowledge. Overall, digital games and simulations urge students to interact not only with the game, but with their instructors and co-players as well. These results have been extensively covered in the literature review, with the majority of researchers agreeing with the current study's results, confirming the positive effects of games and simulations on the behavioural level of learning outcomes (Bellotti et al., 2013; Tsekleves et al., 2014; Fu et al., 2016; Carenys & Moya, 2016).
However, although most reviews acknowledge the positive effects of games in behavioural outcomes, some reviewed studies contradict these positive findings, claiming that teamwork is a controversial issue when it comes to the improvement of knowledge sharing. The use of games seems to decrease opportunities for peer interaction and communication with instructors (Bolliger et al., 2015), whereas playing individually is sometimes considered better than working in a team (Merchant et al., 2014). Also, in some cases, games and simulations through collaborative activities distract students and hinder learning (Dankbaar et al., 2016).
The current review makes a significant contribution by investigating the affective outcomes when incorporating games and simulations in the curriculum, especially motivational and engagement outcomes, emotional development, satisfaction, attitude, emotion, self-assessment, and self-efficacy. Results show that games and simulations motivate, engage and promote effective learning goals by providing opportunities for learners to actively experience, practice, interact, and reflect in a collaborative, game-based, and learner-centred setting. The measures evaluating student attitudes reveal an increasingly positive trend towards games and simulations, especially in post-interventions (Bekebrede et al., 2011; Giovanello et al., 2013; Costa et al., 2014; Angelini, 2016; Geithner & Menzel, 2016).
To this end, there has been a purposeful highlighting of the instructor's role as facilitator and motivator in this literature review. Through in-game activities and extended discussion, instructors promote student interaction and help them overcome the lack of understanding of content curriculum and achieve better learning outcomes. The literature also stresses the role of emotional development, which facilitates improvement of learning outcomes. Specifically, there seems to be a progression in student emotion, from negative feelings including uncertainty, anxiety, nervousness, and disappointment during pre-intervention, to positive feelings of satisfaction, confidence, excitement, enjoyment, effort, fascination, and enthusiasm during in-game and post-game interventions (Huang et al., 2010; Hummel et al., 2011; Liao & Wang, 2011; Terzidou et al., 2012; Woo, 2014; Liao et al., 2015).
Most of the pre-existing evidence is compatible with the findings of this systematic review (Sitzmann, 2011; Connolly et al., 2012; Wouters et al., 2013; Ritzhaupt et al., 2014; Gegenfurtner et al., 2014; Shin et al., 2015; Lameras et al., 2016; Carenys & Moya, 2016; Fu et al., 2016; Warren et al., 2016). Nevertheless, one study indicates that the overall positive perception of students depends on the different forms of games (Riemer & Schader, 2015), namely, simulations promote a less positive effect compared to quizzes and adventures. Some other studies diverge further in their findings, indicating either neutral (Rajan et al., 2013; Strycker, 2016; Franciosi, 2016) or negative student attitudes towards the use of games (Chen et al., 2010; Jiménez-Munguía & Luna-Reyes, 2012). Also, there are limited results on the effect of games on student self-efficacy, with one study demonstrating moderate post-training self-efficacy (Sitzmann, 2011).
Comparing the findings of the current study with the findings of previous systematic reviews and meta-analyses leads to an interesting discussion. The results of the present review illustrate that the majority of the revised articles focus on different genres of games and simulations. The mostly represented genres are virtual/online games and simulations since they can enhance learning in certain disciplines, such as Computer Studies. This finding is in agreement with most of the previous reviews (e.g. Clark et al., 2015; Carenys & Moya, 2016; Warren et al., 2016). Also, simulation games are found to be popular in this review, due to the fact that they are implemented in authentic learning environments, namely in Health Sciences and Biology. Also, in this study, a great representation of role - playing games and business simulation games are obviously resulted from the previous articles, due to the fact that they are implemented in specific academic disciplines, such as Business Management and Marketing. Nevertheless, in this review, serious games are not represented as much as in other reviews (e.g.Tsekleves et al., 2014; Fu et al., 2016).
Additionally, this study concentrates on the positive effects of games and simulations on learning outcomes, a finding that is compatible with previous reviews (e.g. Bellotti et al., 2013; Lameras et al., 2016; Clark et al., 2015. This review confirms that games and simulations contribute to cognitive learning outcomes, including knowledge acquisition, conceptual application, content understanding, and action-directed learning. Other previous reviewers echoed these findings (Smetana & Bell, 2012; Shin et al., 2015; Wouters et al., 2013; Fu et al., 2016) emphasizing the important role of games in knowledge acquisition and content understanding. It has been illustrated that university students benefit from the incorporation of games into the learning process, if used as a supplement in traditional lectures, a finding that complies with other reviews (Sitzmann, 2011; Wouters et al., 2013). However, simulations' implementation is influenced by instructors' guidance and motivation, as these factors encourage faculty to design simulations to achieve learning outcomes.
This review also sheds light on behavioural outcomes of using games in instructional design. The emphasis is on the positive effects, namely the development of social and soft skills, emotional skills, the empowerment of collaboration with peers, and the promotion of interaction and feedback, findings that are in line with past reviews (Shin et al., 2015; Carenys & Moya, 2016). Despite the positive behavioural effects of utilizing games, some reviews find collaboration and teamwork as a hindrance for learning. The application of games seems to decrease peer interaction and communication with faculty, whereas in Merchant et al.'s review (2014), playing individually is more preferable than playing collaboratively. The current review concludes by highlighting the affective outcomes, and the emphasis is given on motivational and engaging factors that lead to emotional development, satisfaction, self-efficacy and self-assessment, findings that are also documented in other reviews (Sitzmann, 2011; Hsu et al., 2012; Tsekleves et al., 2014).
To conclude, this review discusses the multitude of surveys on the cognitive, behavioural, and affective outcomes related to the use of playing games and simulations in higher education. The multi-dimensional analysis of the empirical data provides a framework for understanding the major outcomes of GBL. Despite the significant benefits in learning outcomes highlighted in this paper, the high cost of designing games and simulations is still a significant challenge. To overcome this cost barrier, governments, researchers, instructors, and game designers should collaborate to find affordable solutions, for enabling the development of games and simulations. Since this review does not concern itself with advanced aspects of learning, the focus should next turn to a metacognitive-oriented survey, which will study the promotion of metacognitive skills in students, such as self-regulation, self-reflection, self-awareness, evaluation, planning, building on the ideas of others, debating, and so forth.
Future research
Considering the above discussion points, and the importance of games and simulations as derived from the relevant literature, some suggested avenues for future research are as follows:
Researchers should focus on applying the relevant theoretical frameworks, such as cognitivism, constructivism, and socio-cultural perspectives to cognitive, behavioural and affective outcomes, respectively.

More research should be conducted investigating gender issues with respect to the effectiveness of games on developmental aspects of behaviour, such as scaffolding and immersion, to counteract the present gap in the existing literature.

Comparative surveys should be included with a design focused on different target groups (adult students, or K-12 students in laboratory conditions).

Evaluation models via a mixed-method design are encouraged, especially to investigate how game designers could tailor game designs to applying different learning preferences and styles.

University instructors should take a more active role in the alignment of games with the curriculum ensuring that games and simulations are implemented in a blended learning module (face-to-face, online material, etc.), or even acting as games masters, scaffolding virtual experiences to university learners.

Faculty should design games with a view to multiplayer cooperation to achieve effectiveness in learning outcomes. Students should also be involved as co-designers, recommending innovative ideas and radical approaches in an effort to meet their own needs. An innovative approach is the adoption of metagames (Young et al., 2012), which consist of additional learning resources (blogs, wikis, etc.) encouraging collaboration between players.
This study makes a significant contribution to research, since no other literature review or meta-analysis has been conducted so far investigating educational and web-based games and simulations with such an extensive subject and discipline coverage in higher education. Today's demand for student-centred teaching methods to develop highly qualified learners, capable of learning in an active and collaborative environment, calls for the deployment of game-based activities and simulations that will enable them to face the challenges of the dawning era.
Declarations
Acknowledgements
The research was sponsored by Laureate International Universities, through the "David Wilson Award for Excellence in Teaching and Learning", won by Dr. Dimitrios Vlachopoulos (2015-2017).
Authors' contributions
DV conceived the study. AM conducted the literature review and prepared the summaries and critical reflection on the corresponding literature. DV participated in the design of the study and analysis. AM participated in the preparation of the article's structure, graphs, and reference list. Both authors read and approved the final manuscript.
Competing interest
The authors declared that they have no competing interest.
Publisher's Note
Springer Nature remains neutral with regard to jurisdictional claims in published maps and institutional affiliations.
Open AccessThis article is distributed under the terms of the Creative Commons Attribution 4.0 International License (http://creativecommons.org/licenses/by/4.0/), which permits unrestricted use, distribution, and reproduction in any medium, provided you give appropriate credit to the original author(s) and the source, provide a link to the Creative Commons license, and indicate if changes were made.
Authors' Affiliations
(1)
Laureate Online Education / European University Cyprus, Amsterdam, Netherlands
(2)
European University Cyprus, Nicosia, Cyprus